Top 500 bars vient d'annoncer son classement 2020 des bars les plus influents du monde établi grâce au digital, plus important que jamais pour l'industrie de l'hospitalité dans ce contexte de crise sanitaire.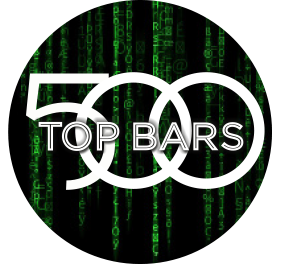 Par rapport à 2019, la base de données du Top 500 Bars a augmenté de 120%, leur algorithme amélioré et de nouvelles sources ajouté pour être encore plus performants. Cette année le classement de Top 500 Bars est composé de 105 différentes villes (contre 91 l'année dernière) et 52 pays différents (contre 46 l'année dernière), avec de nouvelles villes comme Osaka, Reyjavic ou Santiago du Chili. Et c'est The Connaught, Atlas et The Clumsies pour raflent le podium !
Parmi les acteurs français, 33 bars se classent dans le Top 500 bars avec Little Red Door, Le Syndicat et Danico en trio de tête.
18. Little Red Door (Paris/France)
21. Le Syndicat (Paris/France)
42. Danico (Paris/France)
73. Candelaria (Paris/France)
98. Copperbay (Paris/France)
107. Bisou (Paris/France)
111. Moonshiner (Paris/France)
134. Dirty Dick (Paris/France)
141. Lulu White (Paris/France)
149. Harry's Bar (Paris/France)
151. Experimental Cocktail Club (Paris/France)
157. Divine (Paris/France)
164. Cambridge Public House (Paris/France)
168. Le Mary Celeste (Paris/France)
172. Symbiose (Bordeaux/France)
176. Bar Hemingway at the Ritz (Paris/France)
210. Lavomatic (Paris/France)
225. La Mezcaleria (Paris/France)
228. Dirty Lemon (Paris/France)
247. Sherrybutt (Paris/France)
254. Café Moderne (Paris/France)
268. Le Calbar (Paris/France)
270. Combat (Paris/France)
288. Bar 1802 (Paris/France)
294. Fréquence (Paris/France)
344. L'Antiquaire (Lyon/France)
355. House Garden (Paris/France)
386. Sister Midnight (Paris/France)
394. Jefrey's (Paris/France)
414. Les Ambassadeurs at The Crillon (Paris/France)
429. Carry Nation (Marseille/France)
459. Aperture (Montpellier/France)
491. Fifty Fifty Bar (Paris/France)