The team behind the Little Red Door has managed to surprise all its lucky guests at the premiere of the new menu, 'Don't judge a door by its colour'. They have surpassed our (very high) expectations coming from a bar listed as the best one in France and one of the bests in the World, the world's 36th best in 2019 (according to the 50 Best Bars ranking). This menu is inclusive and playful whether you're a cocktail geek or a 'noob'.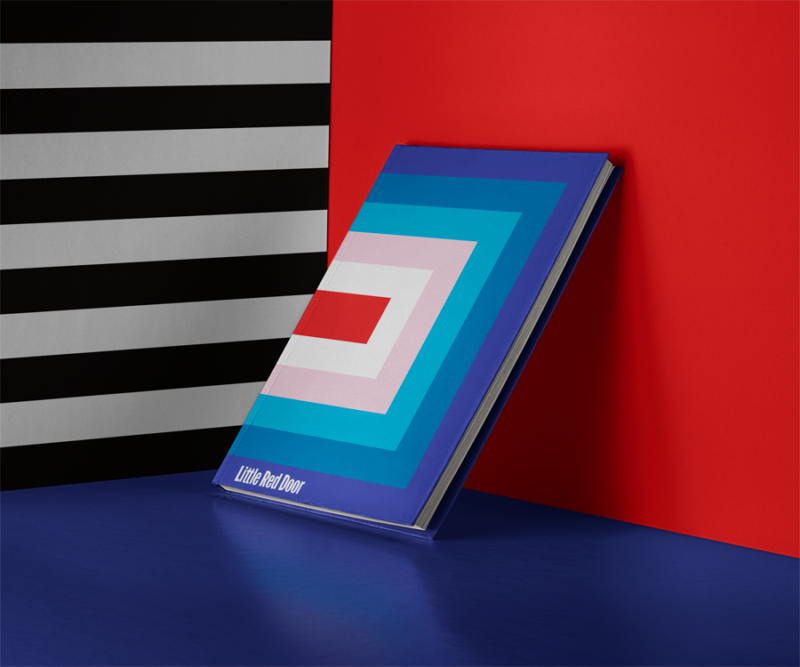 The new menu is all about flavors, they have deconstructed flavors and our perception of them. For each common ingredient: coffee, lemon, mint, chili, honey, mushroom they have picked a sensation that was representing it best: bitter, sour, menthol, spicy, sweet, umami. They have created two drinks, one answering the question 'what does flavor taste like' and one about 'what does flavor feel like'.
The simplest ideas are usually the best ones (as we say in French : les idées les plus simples sont souvent les meilleures) but not necessarily the easiest ones to develop as Rory and Margaux explained below.
Rory Shepherd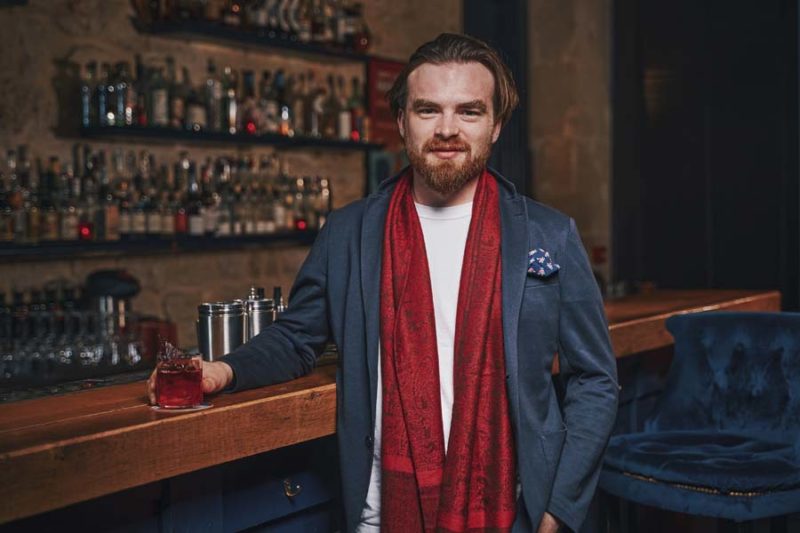 Please introduce yourself
Originally from Scotland, up in the hills, my mum was a great teacher and my dad a hard worker. I started running events for the Edinburgh Arts Festival then I moved to London. I studied foundation photography and I was a part time bartender in a "super hip" pizza place where a friend was working. I didn't have a huge amount of cocktail experience so he convinced me to "bend the truth" on my CV and trained me on the spot.
During my second year of university I decided to drop out of university when I started working in the cocktail bar located in the basement of the 'Brewdog' where I met many LRD crew members. I learned a lot about hospitality there. After moving back to Edinburgh for a summer to working for the Edinburgh Festival, I returned to London and started managing a bar & restaurant in Hackney and at the same time started a pop up cocktail bar with a friend doing fun events, weddings and big gigs… I then got offered a job at 'Library', a private members club with a seriously good bar team, here is where I really refined my skills as a bartender and remained there as bar manager for a couple of years. I moved to Paris (NDRL : aaah l'amour…) I worked for the ECC group (Experimental Cocktail Club) managing a place called 'Ballroom', I learned high volume there. One night I had a "few" drinks with the LRD guys and the rest is history…
Rory started as a bartender at LRD 4y ago then he became bar manager and he is now the creative director for the group (Little Red Door, Lulu White, and Bonhomie) as well as being partner in their new venture 'Ernest Spirits' making spirits & vermouth.
How would you define Little Red Door?
It's a creative, cozy, playful and welcoming place.
Can you explain its popularity since its opening?
The key to success for us is mainly about our observations skills, observing the people, how they enjoy the drinks, their perception of LRD before coming, the patterns, understanding all that and putting it in the next menu. We give an experience more than just good cocktails.
You have to accommodate palates from all around the world, as LRD has become a touristic mandatory stop, how do you manage that?
First of all we speak English in France and our international team attracts an international crowd. The world is getting smaller and it's getting easier to experience other cultures. We also represent the Parisian cultural melting pot as this international culture is becoming the forefront of the French hospitality scene.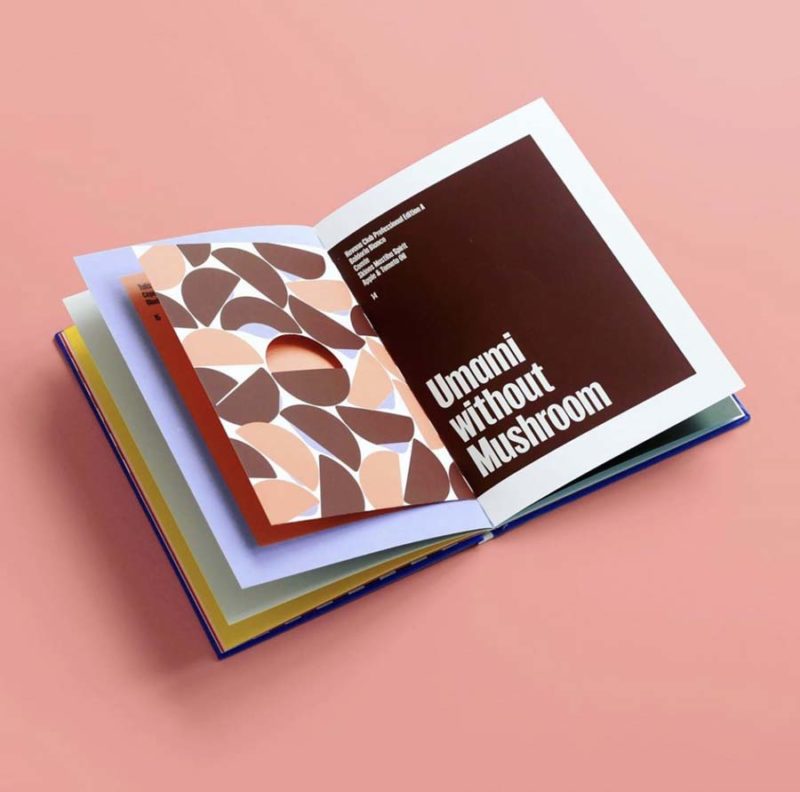 Tell us more about the new menu, where did you get the inspiration from, your creative process…
The inspiration came from our learning process, I am a big believer in group thinking and group creativity. There is no head bartender only a bar manager, we have a senior team and a junior team group of vastly skilled bartenders. Every few weeks one team member must learn something new and teach the team what they have learned. One week the masterclass was about the 'science of balance', but this time it didn't really go as planned as we had a few arguments over it! Is spicy a flavor etc… So we thought that we got an idea there… We took a year to research the basics of flavors by answering two questions: what does flavor taste like and what does flavor feel like? The result is an in-depth study of both the way ingredients taste and react with our palates.
Will you take the LRD new menu 'on tour'?
We will travel when we will be able to, of course. What we do at LRD for events abroad is that we bring the concept with us, we don't simply bring ingredients. For this menu we will source local ingredients where we go (hopefully soon in Asia, South America, USA, UK) and work out the flavor and the sensation of it. So people will experiment our concept with their local ingredients. And we keep learning as well…
What is LRD motto?
Playfully pushing boundaries.
Margaux Josephine
Please introduce yourself
I'm senior bartender at LRD since October 2019. I come from a town called Lyon, I wanted to be an actress until I enter an Irish pub when I was around 18/19yo. I've found a place where I could spend my energy, behind the stick. To practice my English, I left France for Australia where I discovered the cocktails. When I came back, my father asked me to study something to get a diploma, I chose a 10 months bartending training. In Lyon I worked in hotel bars because 10y ago there were not many choices for cocktail bars… Then I worked in various places, cocktail bars, steakhouses, piano bars, cafes, high volume bars… I've learned a lot about quality and quantity.
I left for Asia and South America for 8 months to explore more. When I came back I wanted to try something else so I became sales manager for a distributor, la Maison Dugas. I was handling niche products for the south est of France (whisky, rum…). Then I became brand ambassador for Carlsberg until I miss the bar life but I wanted to go somewhere good! So I went to London where I worked at 'Happiness Forgets' for 2y and a half. I had to start over from junior bartender until being the bar manager. Then I wanted to come back to France so I've called my friend, Rory, because LRD was a match for me, the way to work with guests and as a team, the dedication… everything suited me.
How did you work to create the new menu?
It's an intensive teamwork, each person brought something in. We have shared our researches and thoughts about each other's cocktails. Each cocktail has been made by a different team member. It took us many hours of tasting and meeting, even if we didn't particularly like the drink we had to agree on the flavor and the sensation of it. We chose common flavors that everybody knows, for example coffee.
A last word ?
It was such a great and new experience to work on this menu, so much fun and crazy! It's very exciting to explain this menu, to talk about things we never think about really… It's sick!