[EN] With bars in Paris slowly reopening, we are looking at how our peers are coping overseas during the current climate. We chat to bartender Marc Puzzuoli about working at award winning London venue Bar Swift (#41 at 50 best bars), coping with the pandemic and the best of Paris.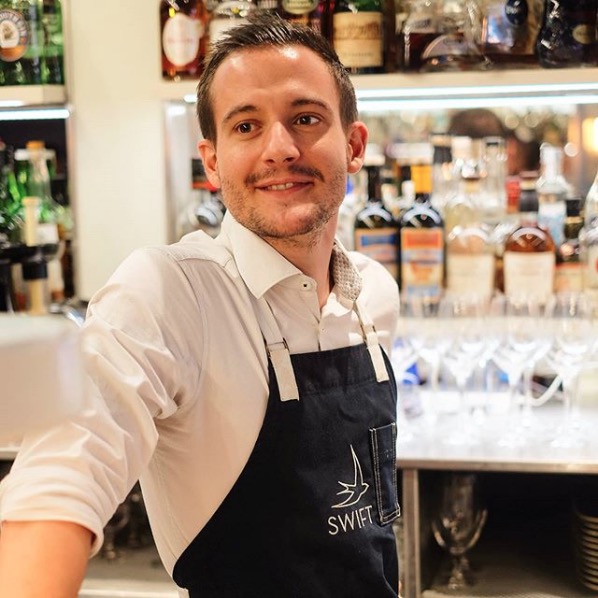 Hi Marc! Please introduce yourself to our readers.
My name is Marc Puzzuoli. I started in hospitality six years ago as a pizza cook (for two years) and then switched to the bar (for four years), mostly as I was missing interaction with guests. I became curious about cocktails as one of my best mates, who is a bartender and a fan of the Mad Men TV show, made me drink my very first Old Fashioned. I've had that virus for cocktail making ever since.
Tell us about your journey and what led you to working at Bar Swift.
I started to work for Hawksmoor when I arrived in London, thanks to the recommendation of a great bartender I used to work with back in Sydney, Louis Lebaillif. Every time I had a day off, I would explore the city and try all the cocktail bars that were part of the [World's] Top 50. The very first time I went to Swift, I had the chance to be served by my amazing bosses, Mia and Bobby. Mia recommended the Piccolina (one of her creations) and I chinned three of them that night, among some others. ALL the drinks on the menu tasted delicious (that's pretty rare). The way Mia took care of us made us feel like we were already regulars (almost family) and made me fall in love with the bar. After that, I would come every week to try the other drinks and harass them (especially Sam) by dropping my CV again and again, until finally Mia asked me to come for an interview. I can confess now that I was pretty hungover that day, but hey! I got hired!
Bar Swift is a favourite, both within the industry and amongst punters. What makes it such a popular destination?
Back when I was a guest, I think what blew my mind first and foremost was how the team cares about delivering the best hospitality experience to each and every customer. You can really tell that every 'Swifty' loves their job, and it just conveys a good vibe and makes everybody feel at ease.
You also have the crazy knowledge of our senior team: I have been working for a year and a half now and I am still learning new things every day. Cherry on top, you have that ice-carving kind of show that's pretty entertaining! And I guess that industry people just enjoy the balance and quality of our drinks… they're not bad, after all!
What is a regular work day for you?
Another good aspect of working at Swift is that everybody does everything, so every day is different. We have bartending, barbacking, and shifts on the floor, prepping and deep cleaning. As an opening bartender and if you work upstairs, you start your day at 1.30pm and set up your bar to be able to open at 3pm. Then you keep slinging until 11.30 and have to tell your guests goodbye at 12. Then comes the proper close and we all finish together, so whoever is late with his bits gets help. We are the fastest when it comes to close though!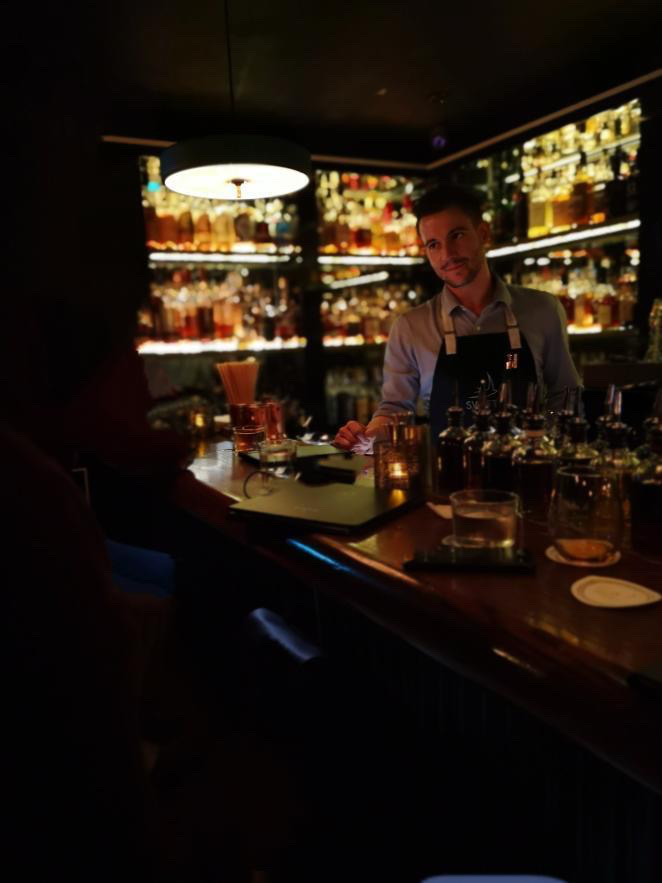 What are some of the differences you've noticed between the bar scene in London and Paris?
For the cocktail scene, I don't see many differences. In both cities you have great bars where people are usually hospitality focused and knowledgeable. London, however, has a greater history and culture regarding cocktails, and way more amazing venues. Regarding bars in general in Paris, you can have the worst to the best experience of your life, whereas London seems to have at least a certain standard in most venues. Simple words like "hello" or "how are you?" are not part of the Parisian vocabulary sometimes, and that's a shame. As a rule of thumb, I would advise any tourist in Paris to avoid cafés in busy, touristy spots.
Can you tell us about the effects of the pandemic on the London bar scene? How are businesses coping?
It's been awful for a lot of us. Some of my good friends and former colleagues got fired right away and had to move back to their country of origin. At Swift, we were lucky enough to have committed and supporting bosses who kept us all. We are also supported by our regulars – more and more of them are now ordering through our online shop and we even did raffles where all the money went to the staff. We are really blessed compared to some others.

What do you miss most about not being behind the bar?
What I miss the most are obviously the guests, the shit-chat and catching up with the regulars and also the team. I miss Max's stories and banter, Roman's shouts and my Irish mob. All of them actually!
What is your favourite drink on the current menu at Bar Swift?
Right now, it is the rhubarb and custard punch that we put back on every march/april. Delicious! You can order it from the online shop…
Where do you like to go when in Paris?
Paris has a great bar scene that's not far off what London or New York has to offer. Bars like Little Red Door and Le Syndicat have great drinks, amazing staff and great vibes. I left France quite a while ago now, but I used to love to go to Moonshiner, Prescription Cocktail Club, Mezcaleria, La Candelaria and Le Mary Celeste. The staff at Blue Bird are amazing. A friend told me to check Frequence out, so I'll be going in the next few days…
Plans for the future?
Wait until this crisis ends and get back to work with my Swift family! Long term, I'd like to keep on travelling and discover a new country. The best feature of this job is that you can do it anywhere, so I'm taking advantage of that.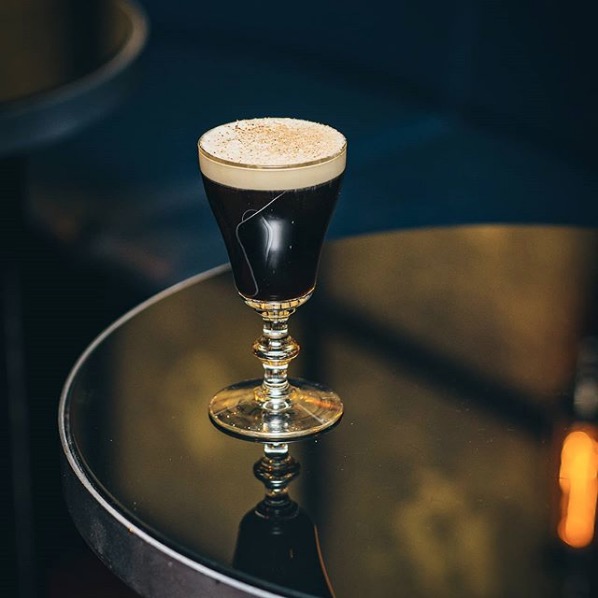 Can you share a Bar Swift recipe with us?
We are pretty famous for our Irish coffee, so I'll give you that one.
Irish Coffee
40ml of Jameson Caskmates
75ml sweet coffee (preferably demerara sugar)
Hand-whipped double cream
Grated nutmeg on top