[English version] We chat to Greg Almeida — formerly of world-famous bars Scarfes and Tayēr + Elementary — about his latest venture in London's South Kensington, the struggles of opening a venue during the pandemic and what we can expect from him in the future. I first became aware of Greg's work during his time at Scarfes bar, and was immediately struck by the quality and care he put into every drink. Having followed his work ever since, it's a great pleasure to interview him.
Hi Greg, please introduce yourself to our readers
My name is Greg Almeida, I am a French bartender born in Clermont Ferrand, a small town in the centre of France. It is a beautiful place surrounded by volcanoes and great food- not a bad place to grow up in, even if a bit remote. I come from a large family, where sharing meals and cooking together was always a big deal. My Portuguese grandparents even owned a restaurant for a while (my grandmother is the greatest cook out there!). My uncle at the time ran events so I went to work with him during weekends to make extra cash as a teenager. I really loved the fact to be paid to make people happy, so I guess hospitality was something I was meant to pursue a career in.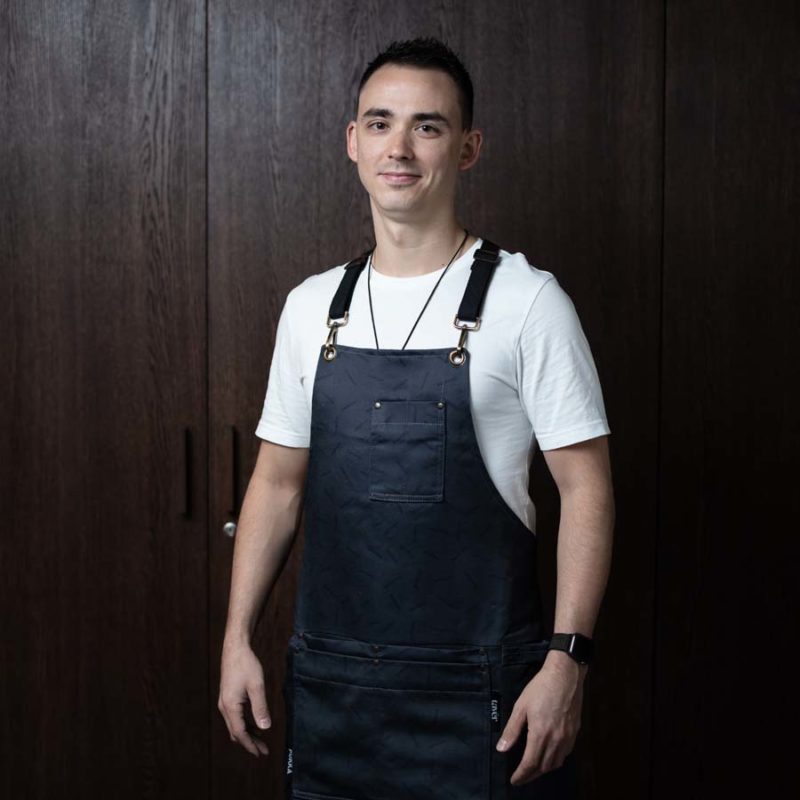 I studied as a chef at the local Hospitality school, as I wanted to learn about techniques and flavours. But I always knew it was behind the bar I wanted to be. I missed the guest interaction that makes our job so interesting. I then went to do a year-long Bartending course in Montpellier, where I learned about classics and spirits, but more importantly met 3 of the most influential persons in my career: my teacher at the time, Laurent Agar, and Julien Escot and Davy Nerambourg, then owners of Papa Doble. All 3 of them showed me what it took to be great at bartending and pushed me to be better every day in their own way. After that, I moved around for a bit, working on the Cote d'Azur (Royal Riviera in St Jean Cap Ferrat), Montreal, Canada (LAB, Comptoir à Cocktails). I am now based in London for the past 8 years.
Tell us about your latest venture
Charles Montanaro, who I met on a trip to Barbados with Mount Gay rum, and I have been chatting for years about our ideas on drinks, food, business ethos but more importantly about the people that make our industry such a force to be reckoned with.
We have had our arguments too, but the kind we would end understanding and respecting more each other's point of view and expertise. This is a very rare, and very important, thing in any partnership. We made each other better. Over the years we pretty much realized we were looking at achieving the same things and decided one day we would try and open something together.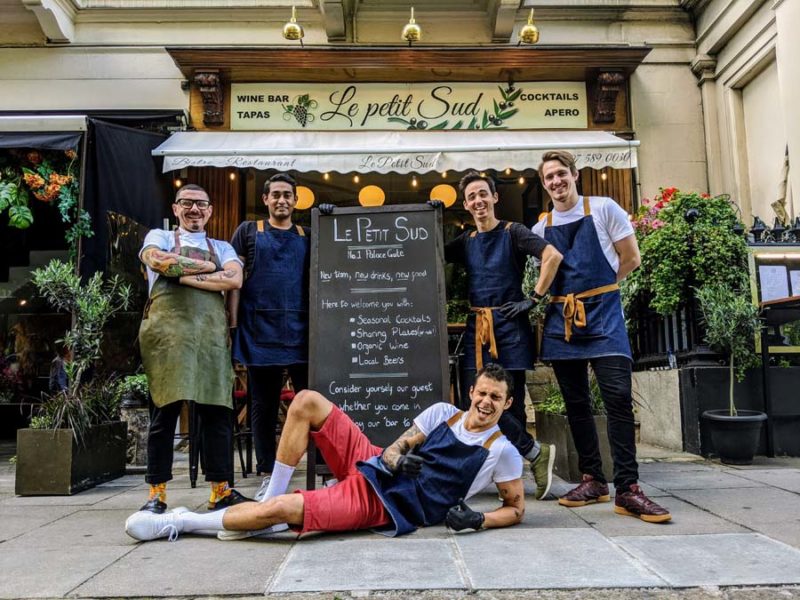 Fast forward to last January, when we stumbled on the site of Le Petit Sud, a then French-inspired wine and tapas bar, situated minutes away from Hyde Park and the Royal Albert Hall in Kensington. We loved the space, we loved the location and we could see so much potential in the space! After weeks of questioning ourselves (Can we afford it? Can we make it work? Is it really such a great place?) and the advice of a few friends, we decided to take a leap of faith (in ourselves) and invest in the venue.
Being entirely self-funded, we needed to be sure we were not making a huge miscalculation but it came down to trusting our instinct in the end. Opening the bar we dreamt of in a location where the offering is mainly made of pubs and brasseries is a risk, but we want to bring some of that vibe you can find so easily in East London further west in the city. A few months and a global pandemic later, we finally got the keys and started officially our new journey!
Opening a new bar during a pandemic and lockdown must be a daunting task. Can you tell us about some of the difficulties you've encountered?
We did not see that whole lockdown situation coming! To tell you the truth, we lost our first loan, due to a lack of confidence in the market. After some fighting, we finally found a new one, but only got the keys weeks after. We like to think that we are very adaptable and positive, so we started to look at every opportunity we had that would allow us to serve our guests. It was important for us to get out there, meet our new community and give them some love. Five days after we got the keys during which we cleaned and organized our small refurb, we started our "Bar To Go", a reduced takeaway menu of 5 seasonal cocktails, 6 organic wines and 4 local beers served from a few tables put together on our terrace.
All drinks were at a reduced price to reflect the difference of atmosphere and hospitality in the way we intended it for our guests. What was incredible was that we did meet our new neighborhood and made regulars pretty quickly. People were very excited at the idea of having a drink on their way to Hyde Park or back home. The reception was truly amazing. While we were serving in the front, the refurb was full on in the back: plumbing, electricity, painting, renovating… we found ourselves some DIY skills we did not think we had. Some friends and family came to give us a hand too, which we are very grateful for. Getting all we needed delivered on time was a challenge: everything seemed to be back-ordered, out of stock or lost at some point. The worst happened to our glassware, ordered weeks in advance, only to be told the night before our delivery would not come as the manufacturer was going under administration! Luckily, we managed to find some emergency glassware, and performed our first services like nothing happened.
Now that we can do sit-down service, we have installed new Covid-19 compliant hygiene measures for guests' and employees' safety including: 1 meter-distancing between each table, temperature checks and guest logbook to be signed on arrival, sanitizers located throughout the venue, black vinyl gloves for the team changed every 2 hours gloves, etc. The distancing reduces our capacity by about 50% and no more than 6 people can sit altogether. But at this point, only few people are comfortable to go out yet so we can accommodate pretty much everyone. Otherwise, we still have our Bar To Go available for takeaway drinks.
Having worked for some of the world's most famous bars, how have your previous roles prepared you for handling your current venue?
Wherever I go or whatever challenge I take on, I always try to learn as much as possible from the people I meet and situations I find myself into. I have a pretty diversified experience when it comes to hospitality: sea-side hotels (Royal Riviera in St Jean Cap Ferrat), independent cocktail bar (Papa Doble in Montpellier), flair bar (LAB, Comptoir à Cocktails in Montréal), luxury hotel (Scarfes Bar @ Rosewood London), Michelin-starred restaurants (Pollen Street Social) and high-volume (Novikov).
I consider every single one of them paramount in my journey. They all taught me something different yet complementing each other: techniques to take care of the guests and behind the bar, self-organisation, time-keeping, sense of urgency, the importance of true leadership, taking care of my teams. I always thought I would work in all these different places in order to learn and take every single good thing to finally mix them and do something of my own. But more importantly, it is the people I worked with that shaped me: Esther Medina Cuesta, Monica Berg, Alex Kratena etc. and my teams made me the person and the professional I am now.
My thirst for new challenges made me travel in different parts of the worlds, including 2 stages while I was between jobs (HIMKOK in Oslo and Credo in Trondheim, both in Norway). That last one in particular, organized thanks to Alex and Monica, gave me the opportunity to see first-hand Heidi Bjerkan's and her teams's influence on their community. Alongside my time at Tayer+Elementary, it reminded me of how important it is to me to believe in a project that is bigger than me: helping people be better versions of themselves through hospitality and leadership. Food and drinks are just a vehicle, a mean to achieve that purpose.
What can we expect from Le Petit Sud ?
When thinking about our bar, it was important for us to create an inclusive, engaging environment where our team, our guests and our community would feel welcome and proud to be associated with. As a team, we are also dedicated to supporting the recovery of the hospitality industry within West London. There are very few places doing what we are trying to do around here. As such, we want to become a pillar of our community. Think of the public houses of old: a meeting point for people where drinks and food where served throughout the day, for any occasion.
Le Petit Sud is a neighbourhood bar serving seasonal cocktails and sharing plates, organic wines and local beers in a refined yet fun environment.
The menu is ever evolving, based on the products our partners can get to us. We ask them what they have in season, and we adapt to them, not the other way around. Cocktails will change every few weeks, if not more often. So will the food.
Our Strawberry Margarita, for example, uses organic strawberries grown in a farm in Cornwall now. While delicious, we also know they will run out soon, so we are discussing with our supplier what it is they will have for us to play with. The drinks we make are all very simple at first, classics the public are familiar with, using top quality fresh ingredients with a story behind. If you read between the lines, there is quite a bit of work behind them.
Our Cultured Butter Martini is just another iteration of the classic at first. If you want to know more, you will find that the gin (Sipsmith) is made a few kilometers away from us, that it is fat-washed with cultured butter produced organically in Somerset, and mixed with our in-house blend of bianco vermouths and sherry.
The food follows the same idea. For instance, we have a friend who started fishing and smoking stuff during lockdown. It turns out his cold-smoked trout is so amazing, we decided to have it as a special on our seasonal board. There is only a limited backbar, so we can change our selection whenever we want and work with everyone. We only get a few cases of the beers we put on our list, as our palate change with the season. And the wine, while all organic or biodynamic, change very often too, based on what's exciting and new.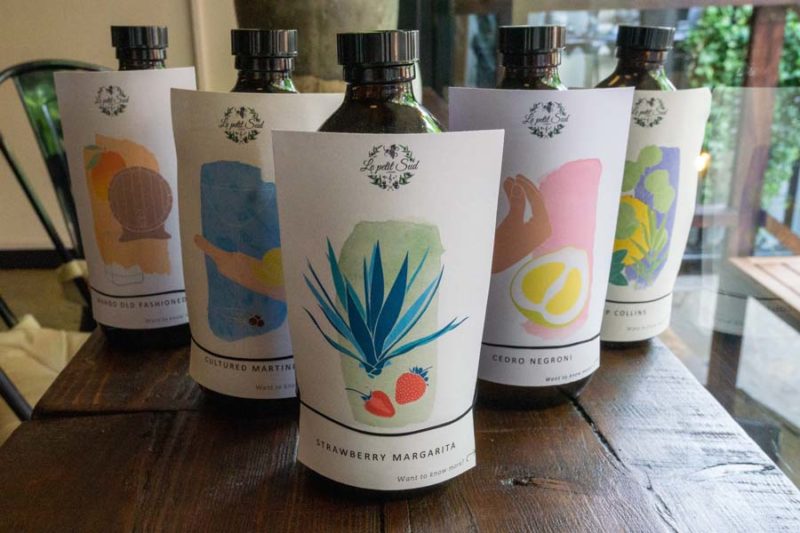 We sell most of our drinks in our Bottle to Glass format too: 500ml bottles, ready to drink cocktails, not needing anything than pouring in a glass. This was important to us, especially during the lockdown, to get people to try our cocktails the way we intended them to be enjoyed. We are now in talks with the hair-salon down the road for them to serve those drinks to their own customers. Our team was picked based on their warm, genuine and kind personalities. Our Assistant General Manager, Sebastian Irimus, and I use to work together back at Pollen Street Social. When we finally got the green light, it was a no brainer to call him back. He is one of the most positive and engaging person out there. Skills can be taught but attitude comes from within. Most of our team come from a luxury hotel background, but they understood we were looking for people able to go that extra-mile for our guests, and still be relaxed about it.
What does the future look like?
While we underwent through a small refurb already, we are planning on having a second one at the beginning of next year. We want to upgrade our back-of-house to make it as easy as possible for us to work around it. We will have an open kitchen, so our guests are a part of everything we do. We want to be able to privatize our downstairs-room for private events as well. We will be installing a new terrace, as well as a new window at the front, one we can fully open for guest seated inside to feel like they are outside.
On top of this, we want to strengthen our ties with quality, smaller producers and our larger community. Our partners all received a brief explaining clearly our vision and ethos, our project and what it is we would need from them. Knowing which direction we want to go, which purpose we are pursuing gives everyone a chance to have ideas on what it is we can do to make our team's and guests' life better. We want to give the people we work with the freedom of coming up with innovative ideas, the kind we would not think about in the first place, while we all go towards the same goal. It is very much an on-going dialogue rather than just the classic "hey, I need X,Y,Z" type of situation.
But I guess the biggest point would be the change of name for "Le Petit Sud". We are looking for something that reflects our "people first, community first" approach. We would like something that says "it just opened" but still has a timelessness to it. Any ideas?
At the end of the day, we are serving hospitality to people. We want to have a positive impact and are open to new initiatives all the time. So who knows what we will be involved in? Our industry touches and is touched by so many aspects of our society, we could do whatever we want. We already have Fire & Fly, our events and consultancy company, up and running during the pandemic as well. We love music, we have the Royal Albert Hall nearby, so why not get involved in live-music? Sports, lifestyle, different style of bars and cuisine (we loooove Mexican!)… The world is our oyster.
Can you share a cocktail recipe with us?
Here is a something low abv, refreshing and aperitif style, easy to replicate anywhere:
Timur Americano
50ml Noilly Prat Dry vermouth
15ml Paragon Timur Cordial
5ml aged Aquavit
7.5ml Aperol
Top up with tonic water
Built in a highball on ice, garnish with a slice of pink grapefruit.