A l'occasion de la St Patrick, le Jefrey's accueille The Little Pig (Dublin, Irlande) lors d'un guest-bartending exceptionnel. Le speakeasy de The Blind Pig – #328 au classement Top 500 Bars – prendra les reines du bar ce Jeudi 17 mars de 19h à minuit. Pat Thomas et Mark Anthony présenteront pour l'occasion quelques-uns de leurs cocktails signatures et ce sera l'occasion de (re)déguster les Single Malts Bushmills.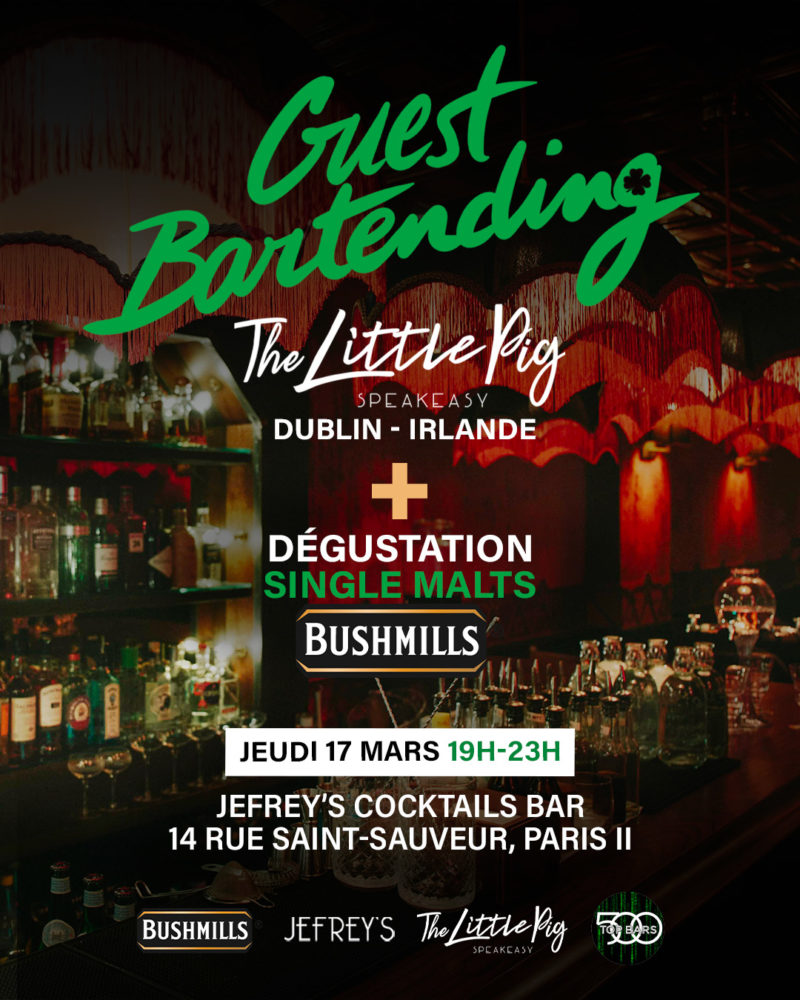 The Little Pig Speakeasy, Dublin
The Little Pig, caché au cœur de la ville de Dublin, est un clin d'œil aux « blind pig » de la Prohibition, ces bars clandestins luxueux destinés à la classe supérieure, où l'on faisait appel à des barmen talentueux pour préparer de délicieux cocktails pour les stars du cinéma et les politiciens de l'époque, avec un décor somptueux et des spiritueux de la plus haute qualité. Bar jumeau du Blind Pig, l'idée du barman primé Paul Lambert, The Little Pig est un lieu cossu et chaleureux, offrant des sièges intimes pour les petits et grands groupes. Il propose l'un des meilleurs martinis que vous pourrez goûter, une fontaine à absinthe, de délicieux cocktails au champagne et les meilleurs Old Fashioned de la ville. Vous pourriez bien vous retrouver transporté dans la haute société des années 1920 !
Verticale Bushmills Whisky
Bushmills abrite la plus ancienne distillerie de whisky « officielle » au monde. Les archives officielles remontent en effet à 1608, date à laquelle la région a obtenu sa licence de distillation. Plus de 400 ans plus tard, le whisky est toujours fabriqué à Bushmills, grâce à l'expérience et au savoir-faire transmis de génération en génération. Bushmills est plus qu'un simple whisky. C'est un village, où famille, amis et voisins travaillent côte à côte à la distillerie. Comme nous le disons souvent, « sans le village, il n'y aurait pas de whisky, et sans le whisky, il n'y aurait pas de village ». A l'occasion de cette St Patrick, Bushmills sera en dégustation avec ses références Original, Black Bush, Black Bush 43° (édition spéciale cavistes France), 10 ans, 16 ans, 21 ans, 2008 Jupille cask, 32 ans Port Cask et un Original Vintage 70's.
---
Guest-bartending The Little Pig, Dublin
Jeudi 17 Mars 2022 | 19h-minuit
Jefrey's Cocktails Bar | 14 rue Saint-Sauveur, Paris II
Cocktails Signatures & Dégustation Bushmills à partir de 10€
---