Despite many hospitality venues being closed for the majority of 2020, it's been a year of acclaim for Scarfes Bar, picking up best international bar at Tales of the Cocktail and ranking 54th on the 50 best bars list. We chat to head bartender Yann Bouvignies about this year, the menu released by Scarfes just after the first London lockdown, and the bar's new bottled-cocktail range.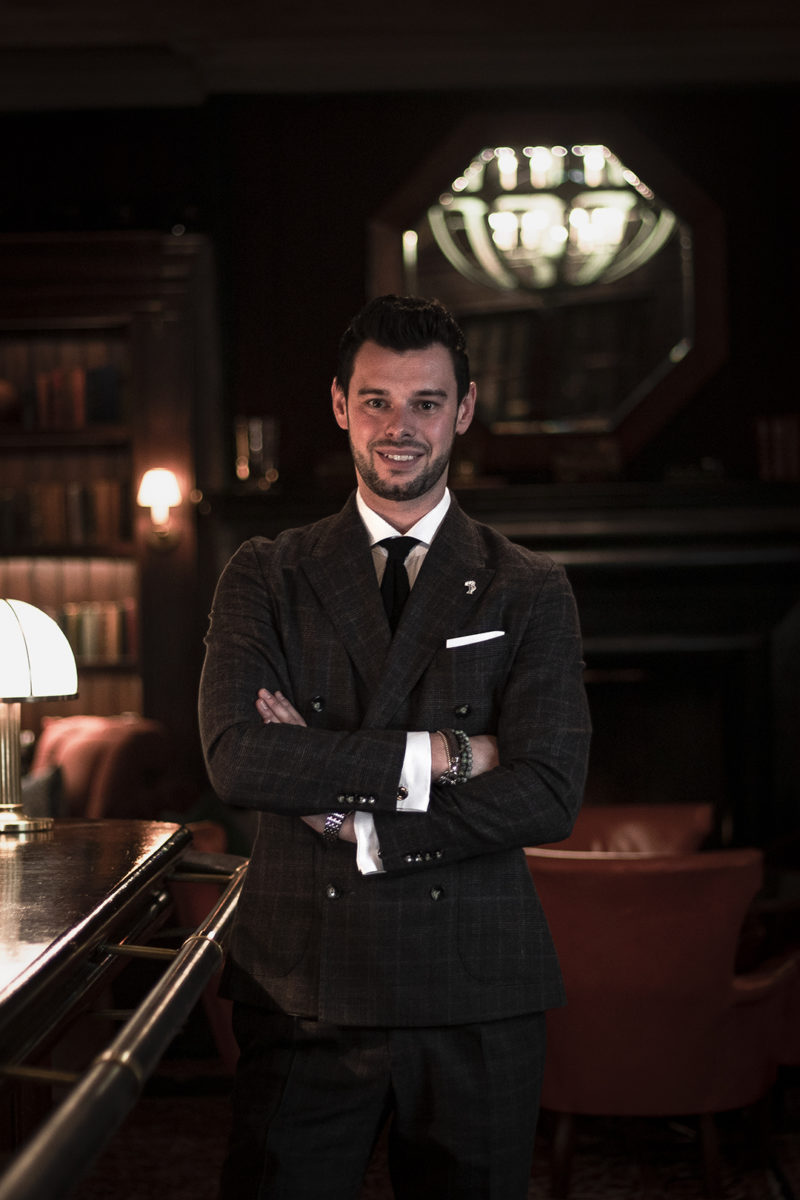 Hi Yann, please tell us a bit about yourself.
My name is Yann Bouvignies, and I am from a little countryside village in the South of France, not far from the sea, where I grew up on fresh local produce and my mother's home cooking. What a life! Music was really my first love; I started playing the drums at the age of five and still do so today.
My journey in hospitality really began when I joined hospitality school as a chef and moved to the floor and bar, which is where I found my passion for cocktails. After studying hospitality for four years and finishing bar school in Montpellier, I worked seasonally between Méribel in the French Alps in winter – at the Kaïla Hotel – and in St Tropez at Residence de la Pinéde (now Cheval Blanc) throughout the summer. This is where I really developed my attention to detail and exceptional standards: the three-Michelin-star restaurant, La vague d'Or by Arnaud Donckele, taught me so much about guest experience and quality of service. It was there that I met my mentors, Jérôme Schrotz and Thibault Poëlvilain, who are truly inspiring and pushed me to take my next step – London!
My first stop was Purl London in Marylebone. I had worked in many hotel bars, so it was important for me to get the cocktail bar experience which the city is so famous for. Being able to work in a luxury bar in London was my next goal, as it would be a new challenge and way of bettering my English.
In August 2016 I began my journey at Scarfes Bar with the Rosewood London hotel, working as bartender alongside my great friend, director of bars Martin Siska, who I still work with in my current position as head bartender. It has been an incredible four years here, and the team has achieved so much – from launching award-winning menus to becoming the Best International Cocktail Bar!
I remember saying to friends back home "I'll move to London for one year…". Well, it's been nearly six already, and I'm not finished yet.
To anyone not familiar, explain the ethos of Scarfes bar to us.
Scarfes Bar – located on High Holborn within the Rosewood London – is named after the renowned British artist and caricaturist Gerald Scarfe, whose original artwork adorns the walls. The bar evokes a convivial atmosphere similar to a sophisticated gentleman's club. The creative menu of cocktails, an energetic team and live jazz seven nights a week make Scarfes Bar a must-visit destination for the global traveller and the local regular.
Tell us a bit about the current Scarfes menu.
After the success of our musical genres menu last year, it was important for us to find a new concept that highlighted the team's talents and personalities. Without them, Scarfes Bar wouldn't be what it is. A few years ago, I wanted to study the idea of personalities and psychology, and started to read about the concept of the enneagram – a system that groups the nine main personality types that all human beings belong to.
The best way to represent the team in the form of a menu is to make it about them. The creativity process was really challenging, as we all had to take the time to study and educate ourselves on the different personality types and the fundamentals of the test. We each took our own enneagram to have a better understanding of ourselves as a team. We spent the first five months of the creativity process learning about each other's results, then we started talking about ingredients for cocktails.
I think if you ask any of the team, they would tell you how much they hated me for this incredibly complex concept, but I had no doubt we could pull it off – my belief in the Scarfes Bar team is endless. Et voilà! By March 2020, we were ready to launch – but then along came Covid-19, which meant that we had to close and wait for the bar to reopen on 8 October. The menu is now live and I'm extremely proud of all the positive feedback we've had from our guests.
I want to take this opportunity to massively thank all the team – Martin, Michele, Lubomir, Simona, Victor, Craig, Giuseppe, Arturo, Eleonora, Endy, Luca R, Tomas, Carlos, Ludovico, Stivi, Francesco, Luca D, Danilo, Davide, Marie, Amelia and Ashley – for their hard work and support day after day.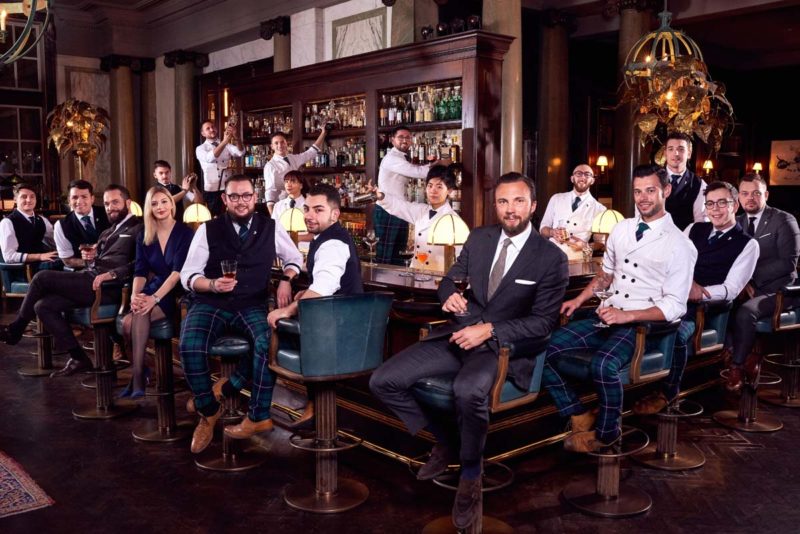 Scarfes Bar receives regular acclaim both critically and commercially. What does that mean to you?
It is incredible! We've received the kind of recognition that many bars and bartenders dream about. Since arriving at Scarfes Bar just over four years ago, we've worked really hard to elevate the cocktails, style and atmosphere. We have been included in various rankings, and won Best International Hotel Bar at this year's Tales of the Cocktail. It's a moment we will never forget.
But I've never seen Scarfes Bar empty or quiet in all the time I have been here – even before it had won any awards or been on any lists. This is what makes me the most proud: even when we weren't known at all, our bar was full every single night. Having guests waiting outside for more than an hour to come in and try the drinks is the greatest award you can get.
The previous menu was famously in the shape of a striking 3D diorama. Did this influence how the current menu was designed conceptually or physically?
When working on a design for the music menu, many factors came into play. Scarfes Bar has this really unique atmosphere and it's all about the arts (music, painting, etc), so we wanted something experiential that our guests could have some fun with, but – due to the bar's high volume – we also needed a format that allowed them to choose drinks easily if they didn't want the full experience.
For the new menu, we went for something a bit more sophisticated, but without sacrificing the interactivity, as it's something our guests really enjoyed. I really liked the sliding process in the music menu, as it added an element of surprise, so we wanted to come up with something similar for the new menu.
There are two ways to choose your drink: by flavour and ingredients or, if you slide the main board, by personality type. Some guests who order their drink without checking the ingredients at all – instead, they just find their personality type (or their partner's) and order the corresponding drink.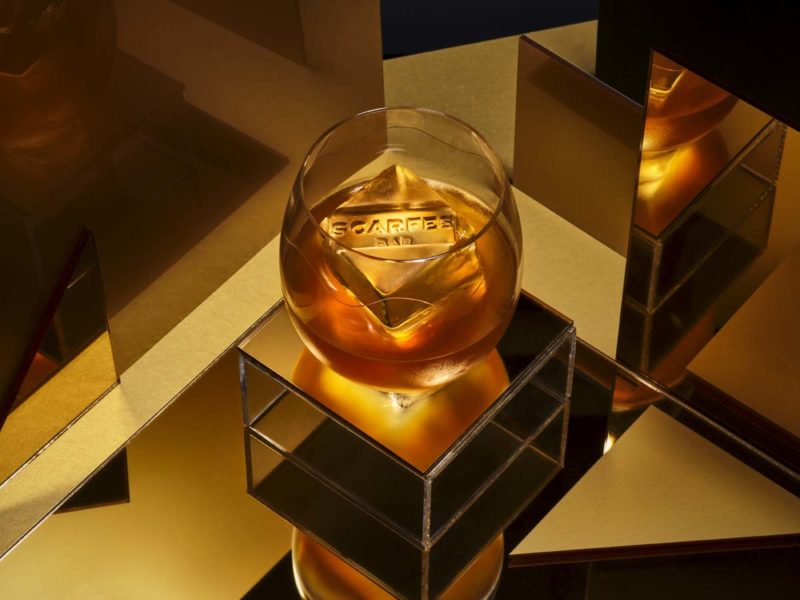 What makes a good bar for you?
Since I've been a musician from a young age, the music in a bar is really important for me. Having great drinks is a must, but I would rather go somewhere where I know there'll be a great atmosphere. I also really like cozy bars where I can sit and have a coffee (or a beer) and end up staying until closing because I feel so at home.
The service is another fundamental, as it's the team that really makes a place. A good bar for me is somewhere you can go time and time again because the atmosphere and team become so familiar.
The pandemic has affected us all. How have you been coping with the constant restrictions and closures?
In terms of the bar's operational running, we had to adjust our opening times and reorganise the floor plan. Not having bar stools was a big loss in terms of atmosphere and capacity, but we got creative with pieces of furniture from elsewhere in the hotel that weren't being used, and added high tables facing the bar to keep the counter-style feel that our guests love.
Wastage and cost management have also become more important than ever, but being a bar within a hotel is a real advantage as the different F&B outlets at Rosewood can help to support each other.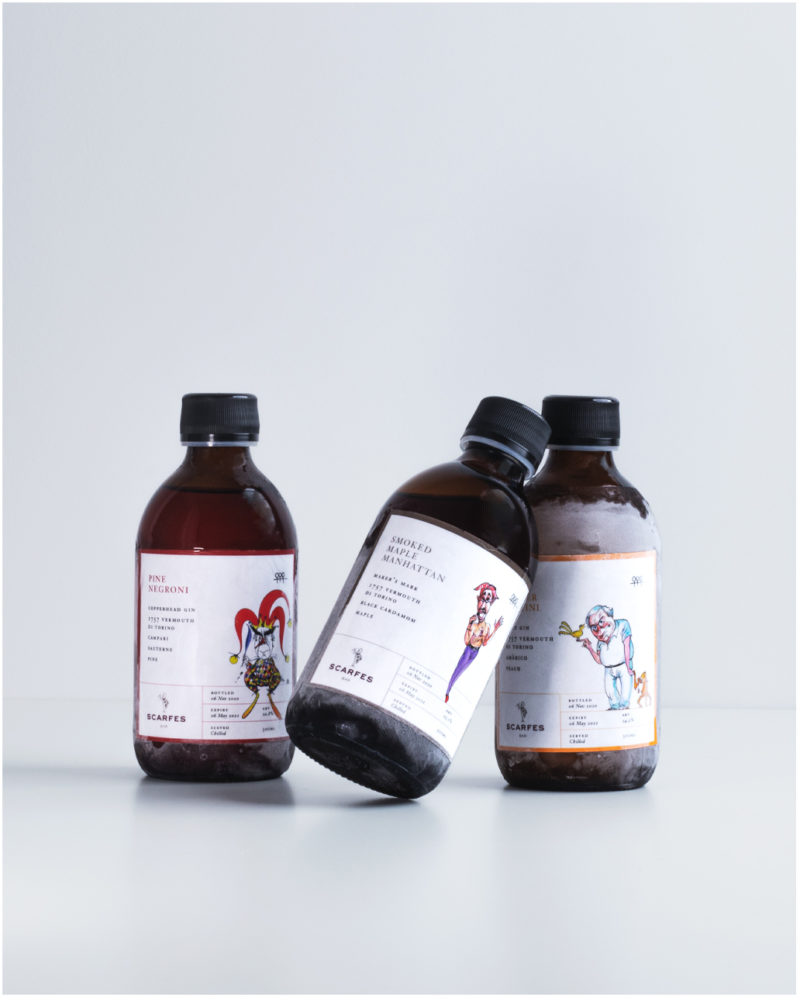 Since we've also lost a lot of opportunities for sales during lockdown and restricted opening times, we've recently launched a set of bottled cocktails so that guests can enjoy a taste of Scarfes Bar at home. They're available online at Shokunin House and directly on scarfesbar.com, and guests can also buy them to take away when we do last orders. We worked on three classic recipes, giving each one a slight twist while preserving the original DNA of the drinks.
Peach Flower Martini
Roku Gin
1757 Vermouth di Torino
Amàrico
Peach
Pine
Negroni
Copperhead Gin
1757 Vermouth de Torino
Campari
Sauterne
Pine
Smoked Maple Manhattan
Maker's Mark
1757 Vermouth de Torino
Black Cardamom
Maple
Can you share a cocktail recipe from the current menu with us?
One of my favorites on the menu is the
Suspicious Lady
Personality type: Achiever
A modern and elegant approach of a Lychee Martini
40ml Roku gin
25ml Fortified Linden Honey
15ml Lychee Wine
5ml Sauterne
2.25ml Citric & Malic Solution
2 drops Citra Hops Tincture