Chinatown in Kuala Lumpur best known as Petaling Street (or Jalan Petaling if you want to sound local) is historically extremely rich. Jalan Petaling would hold a few tapioca mills where farmers from outside KL would come to ground their tubers into flour. Then many Chinese people would settle there starting from the beginning of the 20th century. Malaysians are composed of Malays, Indians, Chinese and indigenous people – technically the last ones were there before! – but don't forget the colonial influences with the British colonisation and others who tried like Portuguese/Dutch (don't come at me for extremely accurate historical facts, it's just to give you some context!).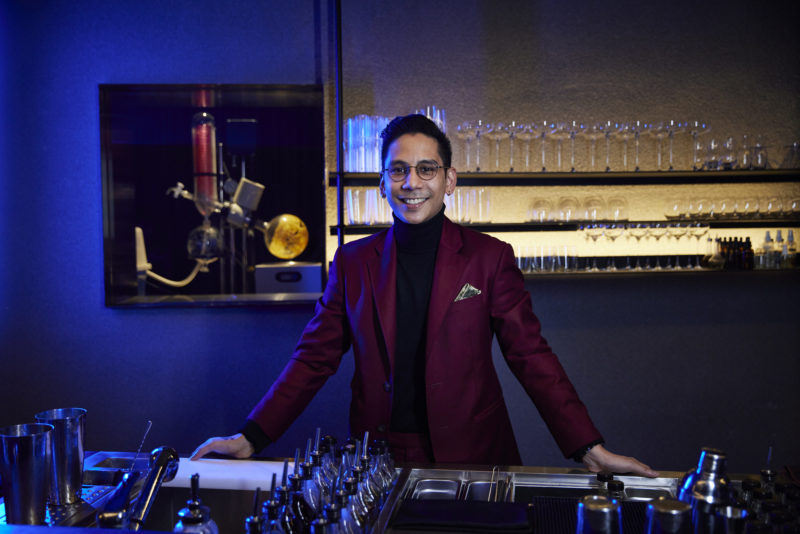 You can still find many typical Chinese shophouses, the area is still bursting at the seams especially in the afternoon and at night. You can still find old uncles and aunties running errands, busy businessmen etc.. stopping quickly at the temple to send some cash to their ancestors, where the misfits meet and chill, where birdcages would hang outside mysterious houses and where you can also find tourists on the lookout for any type of cheap goods and fake handbags.
It is also where the old meets the new, where you find instagrammable bars and cafés but also where some of the oldest traditional restaurants still are and where in KL you can party all night. Speaking of which, one the newest addition of the Petaling Street cocktail scene is Penrose and holy moly!! I had a chat with (the great, the one and only!!) Jon Lee, who was previously working at Tippling Club Singapore where he helped launch the "Sensorium Menu" and "Dreams & Desires".
Please tell us about your bar.
Jon Lee: Located in Chinatown Kuala Lumpur, Penrose draws inspiration from the Penrose Tiling by famous mathematician Roger Penrose. Essentially most cocktails only contain 5 compounds that Penrose encapsulates to create elevated cocktails.
Penrose focuses mainly on executing classic cocktails within an intimate setting with clean and crisp drinks. Our signature menu is a meticulous approach to classics, culinary techniques, sustainability, and menu design.
Please tell us more about the menu?
The inspiration draws from the Penrose Tiling which consists of a pentagon. The pentagon itself is our interpretation of a cocktail structure that consists of Alcohol, Taste, Flavor, Body, and Dilution, where these 5 points make up almost all cocktails. It is presented in a visual representation of the star symbols you see next to each drink. Visually, the Penrose Tiling is a pattern that never repeats itself as it grows, and so does its shape and design, similar to how the growth of classic cocktails has come to be from its dawn to the current day. A visual narrative that is simple, elegant, and calculated is the basis of our philosophy.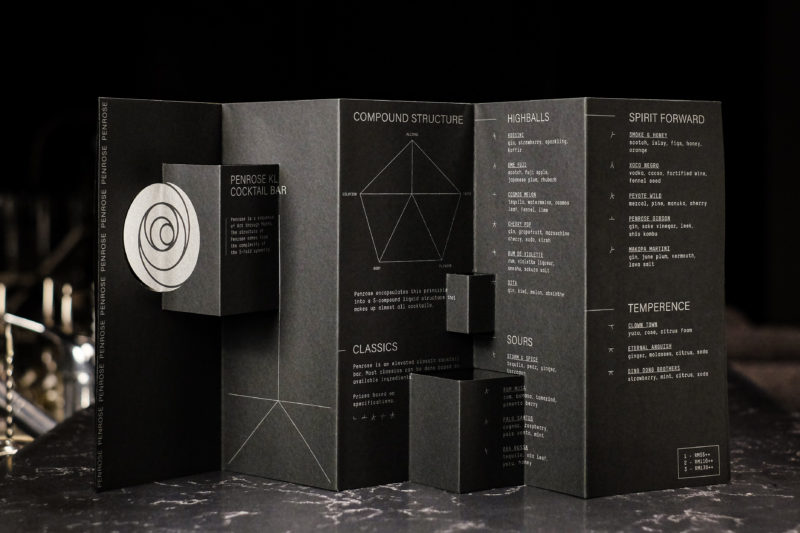 Is there any cocktail you want to highlight for us?
Our Menu consists of 15 cocktails of which all stem from classics. The idea behind this is to introduce the cocktails in an elevated way to our guests to intrigue them into appreciating cocktails that have stood the test of time.
« Makopa Martini » is a variation of a dirty martini by using Lacto fermented Kedong-dong also known as « June plum » as a substitute for the salty savory notes of olives, showcasing the diverse ingredients Malaysia has to offer whilst maintaining the shelf life of the fruit itself. The XocoNegro is a lighter and earthier take on a classic Negroni, Using local Cacao distilled in Vodka and Malaysian barley steeped in vermouth. An elegant way of expressing a vodka-based negroni while not compromising on flavor and body.
What is your bar philosophy?
Sustainability is a crucial component for us. The freshest produce is the key to making good cocktails great, and with that comes plenty of waste. Our sustainability program doesn't just come from reducing the use of plastics, we emphasize the science of increasing shelf life, from pasteurization, fermentation, super juices, and clarification.
These methods are not only essential to making good drinks, but it also allows us to reduce spoilage and overall waste. The majority of our garnishes are created from the by-products of our preparation. Rectified with culinary techniques, we practice a closed-loop system as much as we can. Penrose isn't just a concept, it's a philosophy of how all drinks are designed, Executed, and Improved. A mind map into what we call a sequence of art through Mathematica
Jalan Petaling has evolved so much in just a few years, I spend only one night there and I couldn't visit all the bars!! But here is a list of approved bars for you : PS150 (the first sexy hidden cocktail bar in the area), Concubine (for insta), Botakliquor for the drinks and Chochafoodstore for the food, Jann (a hotel bar very conveniently situated in Chinatown), Rust Café and Bar (try their food as well!), Panggung (for movies fans), the Attic Bar (for backpackers but not only), Wildflowers (also by Jon Lee), Pahit (such a beautiful place and for Gin lovers), Suzie Wong (very surprising place) and not too far the Heli Lounge bar which is quite fun.
There is a bar for everybody there! Cheers!