On connaissait Mido en tant que co-propriétaure et bar manager du Café Moderne, Paris, moins comme fanatique de musique hip-hop. Désormais, il mixe ses cocktails au rythme de son Sample Menu.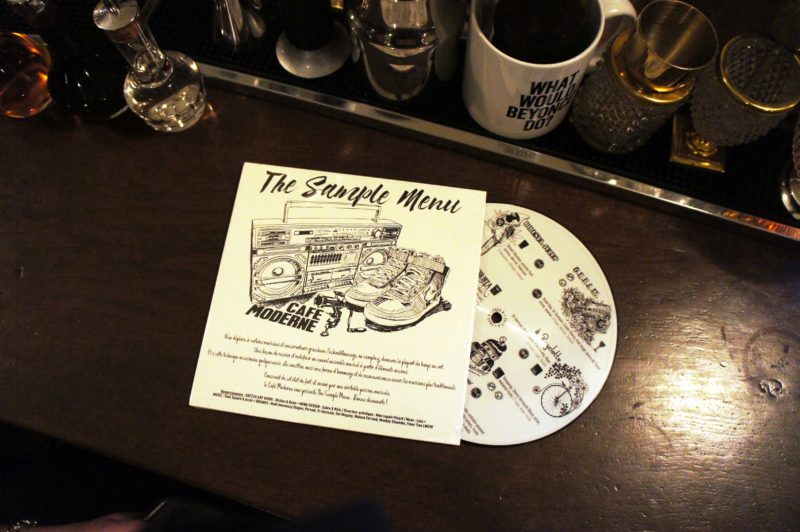 Après plus d'un an de travail, sa nouvelle carte de cocktails imprimée sur vinyle a clairement du style. Des noms aux références variées du hip-hop comme l'explicit « Nuthin' but a gin thank » et des graphismes made by The Golden Rabbit Tattoo, ça a du flow ! Et c'est la surprise lorsque l'on découvre que le 45 tours est fonctionnel : deux faces, deux tracks imaginées par Soul Square que l'on peut écouter sur une platine Numark proposée par le taulier, immersion musicale garantie !
Mido est de la « génération hip-hop ». Passionné par les samples, origine de ce mouvement urbain, il a pour ambition de créer une nouvelle expérience gustative autour de l'univers dans lequel il a grandi. Lorsqu'il rencontre Will, membre du groupe Soul Square, pour sa part passionné par les spiritueux et les cocktails, c'est le crush. L'idée était trouvée : mixer les deux univers ; les goûts ont été associés aux sons, une caisse claire est acide alors que les basses sont onctueuses.
« En musique comme en mixologie, tout a déjà été créé, on ne fait que remixer les classiques, je ne fais que sampler les cocktails »
Pour mettre en avant le groupe qui l'accompagne dans cette expérience, la carte comprend un cocktail « Soul Square » (Talisker, Hennessy, beewax et cire d'abeille) ; la cire d'abeille a été fermentée avec un peu d'eau avant de laisser le cocktail vieillir dans un fût de Talisker préalablement brûlé. Résultat : un élixir aromatique au caractère bien charpenté.
On retrouve également à la carte Jamrock (Plantation Pineapple Rum, vanille, ananas rôti, citron vert, pandan), A Bicyclette (St-Germain, Rinquiquin, Fino Sherry, thym), C.R.E.A.M. (Ketel One, St-Germain, Cream Sherry, fruit rouge, poivre de Timut, citron, ananas), Zulu Nation (Smokey Monkey, Pedro Ximenez Sherry, sirop de pain sucé, concentré chaï) ou encore El Taco Rojo (Altos Tequila, citron vert, Si güey shrub, Chipotle tincture).
De plus, il est possible de commander la majorité des cocktails de la carte en version sans alcool ou à partager. Ça ne laisse plus beaucoup de prétexte pour ne pas aller découvrir The Sample Menu !
// Café Moderne • 19 rue Keller 75011 Paris