Fidèle à ses habitudes, la distillerie familiale Kilchoman propose cette année encore une nouvelle édition limitée, qui fait suite au fameux Am Bùrach de l'an passé. Cette fois-ci c'est le Pedro Ximenez qui est à l'honneur ! 33 fûts ont été sélectionnés par Anthony Wills et ses équipes. 9 dont le vieillissement est intégralement réalisé en ex-fût de PX, tandis que les autres ont reçu un finish de 12 à 18 mois dans des fûts équivalents. Sachant que les jus ont en moyenne 7 ans, il s'agit tout de même d'un finish relativement long ! On espère donc retrouver l'influence de ce fameux vin muté espagnol dans la palette aromatique du whisky. 12 000 bouteilles de ce single malt titrant 47,3% ont ainsi été produites. Et comme d'habitude chez Kilchoman c'est embouteillé sans filtration à froid et sans coloration.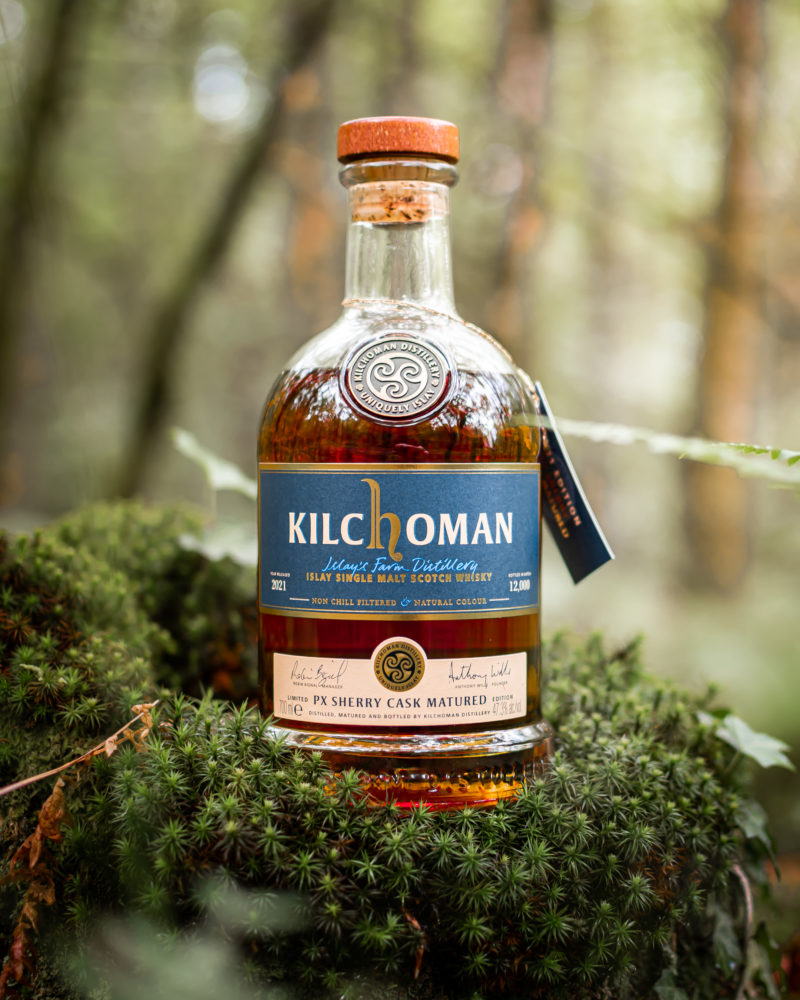 "Pedro Ximénez casks aren't always the easiest to work with. That was why we decided on a combination of full maturation and finishing, to balance the distinct PX influence with that of our spirit. I'm delighted with the result; big and bold but with a delightful poise and balance of flavour" Anthony Wills, Kilchoman Founder & MD
Au nez, l'ADN Kilchoman est bien là : frais, marin, iodé, minéral avec des notes d'agrumes délicates. Les fans ne seront pas déçus. On y retrouve aussi des notes boisées, légèrement fumées, ainsi que des notes typiques de marmelade d'orange et d'épices douces apportées par les fûts de Pedro Ximenez.
En bouche, chaleur et gourmandise sont au programme. Le caramel se mêle à une pointe de sucre roux, des épices à nouveau et un petit quelque chose de cake aux fruits confits. En fond, la tourbe est discrète mais tout de même perceptible.
Enfin, la longue finale fruitée, boisée et chargée en épices douce complète ce tableau et confirme le remarque équilibre de ce single malt.
Un bon exemple de ce que peut donner une maturation PX qui n'écrase pas l'ADN du distillat. Une sherry bomb aromatique et gourmande mais maîtrisée et équilibrée. Sans aucun doute l'un des embouteillages officiels les plus réussis de la distillerie !