For a long time a mainstay on the 50 Best Bars list since its opening, Bethnal Green's Coupette launched its new menu in September. But despite these uncertain times, the pandemic hasn't slowed down the team – in fact, it's spurred a whirlwind of creativity. We speak to bar manager Andrei Marcu about the process of creating a menu in the midst of a crisis, and some of his personal highlights from the finished product.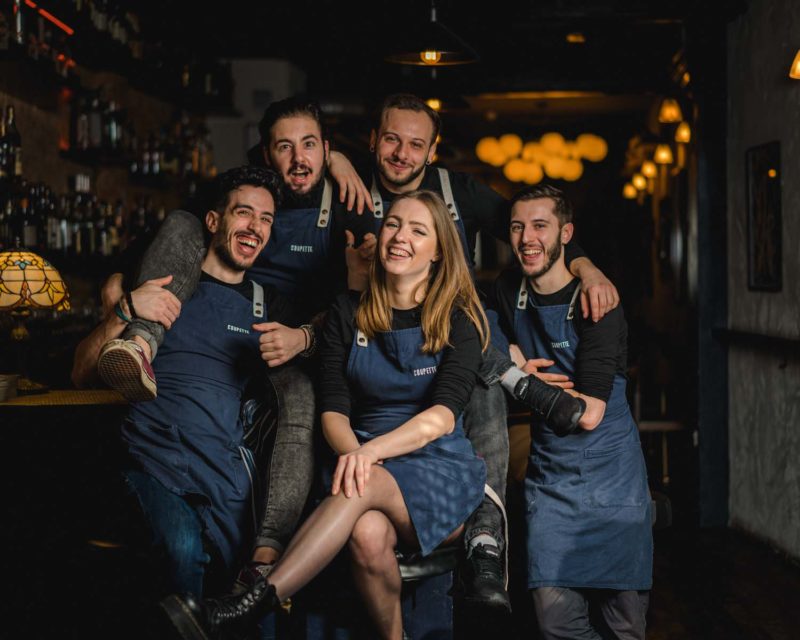 "When we first started thinking about the new menu, we wanted to put together a concept that would showcase everything Coupette represents," Adrei explains when we talk. "We are a brand new team that took over the place last year. We all sat down and looked into how we could mix everything together."
So where does this young team start when it comes to creating a new menu? According to Andrei, the current climate meant inspiration wasn't hard to find.
"The main concept for Coupette is a French neighbourhood bar in Bethnal Green with a bit of an edge, and a young team striving for greatness," he says. "When we're creating a menu, we look for something that will inspire us all along the creative process and really bind everything together. Looking into the history of Bethnal Green and East London, we realised that some of the most influential things that happened in this area were gang related. And that's when it clicked. We created this menu during a pandemic, so we had to hustle and do everything we could to keep the business alive and to come back as strong as before, and that made us really relate to those gangs. We felt that we could represent who we are by creating a fictional cocktail gang."
Once the team had settled on an idea, it was time to work out how best to represent it.
"First we started with the story," says Andrei. "We wrote a little novel based on it, then we named the chapters and created drinks based on them. Then we wrote a script for six videos to tell the story the way we pictured it. The menu – Urban Legends & Their Uprising Tales – is both an exploration into the darker side of East London and a gritty tale of wits, innovation, friendship and teamwork winning against all odds. It takes our guest through the imagined story of how the gang grew through illicit calvados deals, spirit smuggling and ingredient hustling."
The story of the cocktail gang is fictional but the symbols and flavours are very real.
Now, with its shiny new menu complete, the bar is open again and the team is hopeful.
"What a journey it has been – to say the least," says Svajūnė, one of Coupette's bartenders. "The new menu is honestly a work of art, and I am so, so proud to be a part of the creative team. What I love about this menu is that it's a book – a novel, you might say – that tells such a big story. The story of the cocktail gang is fictional, of course, but the symbols and flavours in the drinks are very real. The menu is a completely new approach, very different from the ones we had before, and its diversity illustrates how each of us approaches drink conception. As a result, there is truly a drink for everybody on this menu – we work together, we're a family, and this menu is the best example of how much you can achieve by being independent but working together."
But the industry itself is still in limbo, and the team at Coupette are well aware that hospitality isn't yet out of the woods.
"The current pandemic has had a massive impact on our industry," Andrei says. "I am seeing so many beautiful places closing their doors forever, and so many friends losing their jobs. We consider ourselves lucky to be able to be open and even more to be able to launch a new menu."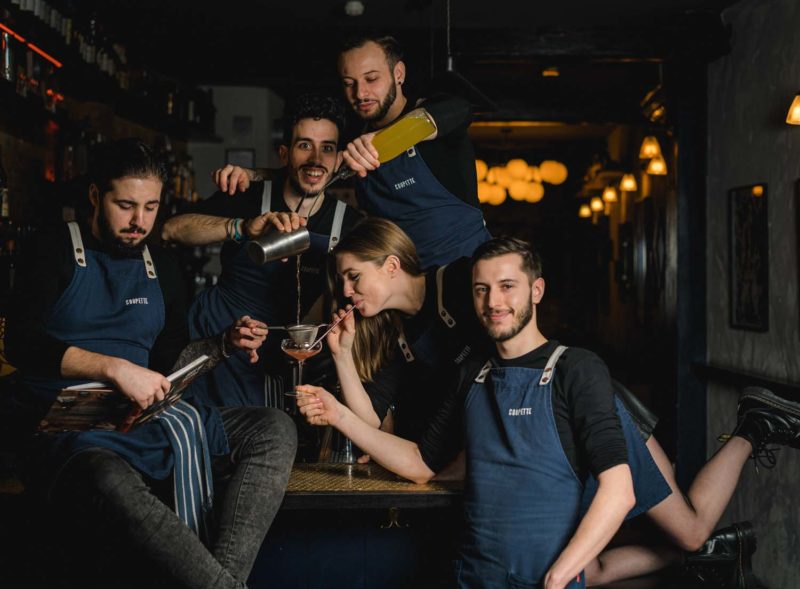 So, as the pandemic continues to affect us all, does this bartending veteran have any advice for his hospitality brethren?
"We have to stay positive and we have to stay united as a community in order to make things easier and come out of this situation," he says. "I believe the hard part is over, yet there is still a lot that we have to go through. Business these days is very unpredictable, and now it is way more complicated to run a place and offer the same experience as before. I want to tell everyone to stay strong and not give up. And for the ones that are in service right now, stay safe and make sure you do everything you can to keep your guests safe and healthy while they are enjoying your products."
The menu 'Urban Legends – Their Uprising Tales'
The menu is a glossy, colourful affair, divided into six beautifully illustrated chapters, each with four drinks, complete with QR codes linking to video footage telling the story of each section.
Chapter One – Behind the Blue Doors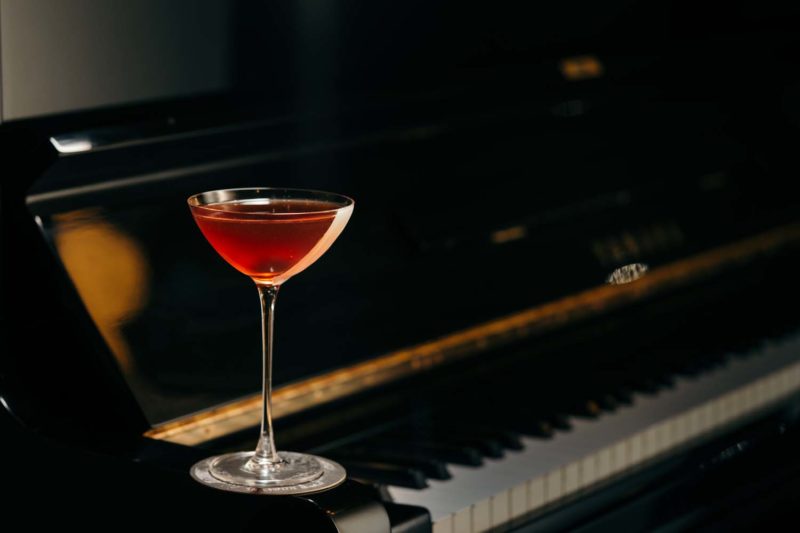 "Chapter one explains how everything happened – there's a bit of my own background, how I met one of the bar's directors while he was looking for someone to take over the business, build it back up and make it the best it can be."
Andrei's favourite serve: One of my favourite drinks in this chapter is Chocolate and Red Wine, which is inspired by our resident singer's first release which is often played in the venue. It's a delicious milk punch which captures those two flavours in a spectacular light, then it's finished with a chocolate and red wine bonbon that we make in house.
Chapter Two – Children of the East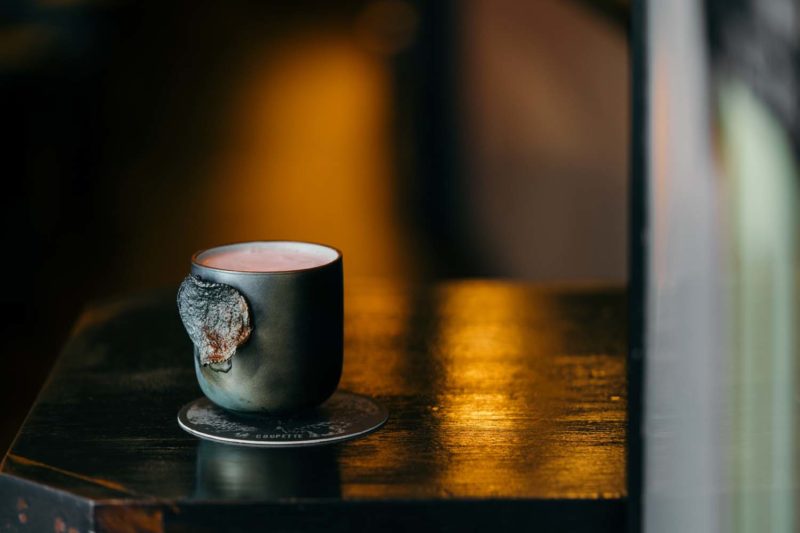 "This chapter showcases the way the team was built, as well as their personalities and a bit of a fictional background. Finding the team was a bit like assembling a group of gangsters to pull off the perfect bank robbery. Did I watch too much Money Heist during lockdown? For sure."
Andrei's favourite serve: The Purple Hopper is a twist on a grasshopper, with earthy notes from a housemade beetroot sweet mole that represents the terroir of our team and also symbolises the beautiful art of graffiti through its garnish.
Chapter Three – Ready to Run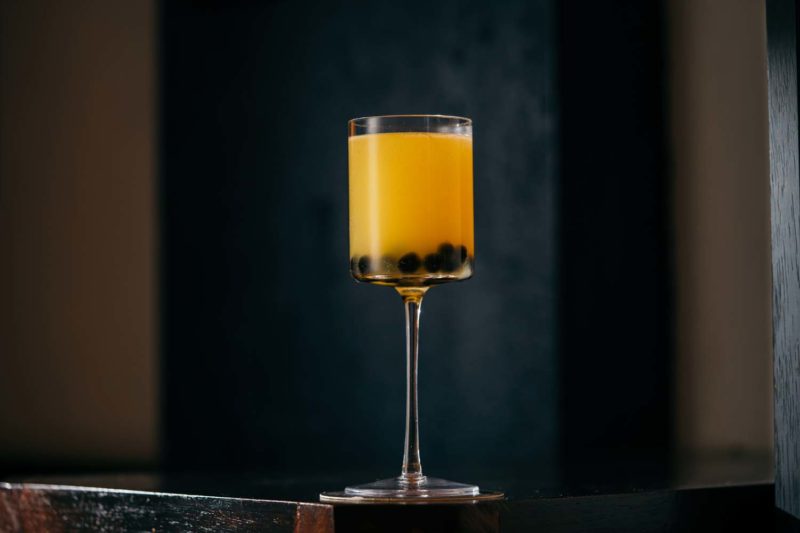 "This is where things get exciting. We created this menu during a pandemic, so we needed to hustle in order to get things done. I love symbolism and I am incredibly passionate about it, sowe used a lot of it in our fictional story. This chapter represents us doing everything we could to get things started again. In our videos, you'll see us getting chased after we stole some ingredients to use later in our creations."
Andrei's favourite serve: In this chapter I would always go for Golden Pearl Tea, which has the DNA of a white with a bubble tea twist, all surrounded by mango and passionfruit notes and finished with tapioca pearls.
Chapter Four – Street Corner Society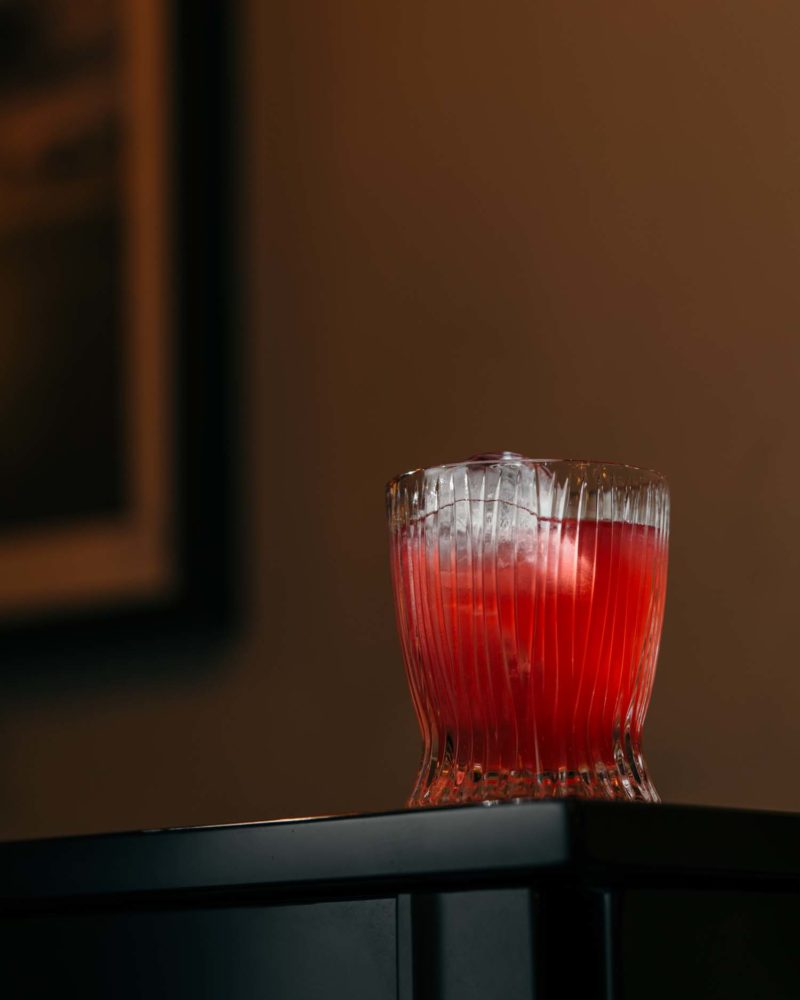 "During lockdown, delivery and take-away really helped keep us afloat as a business, so we wanted to represent that in our way. Our Apples serve was always one of our best sellers, so we reimagined it as being a bit like a drug that people buy on the corner and get addicted to, and also showed a bit about how it's made."
Andrei's favourite serve: While Apples has the main role in this chapter, I would definitely go for the Bitter Quarter, which is a twist on a Negroni with something we called forced carrot – basically an orange and purple carrot cordial that we force to become red through the use of different acids. The name of the drink is inspired by Bethnal Green; a lovely neighbourhood that has its bitter parts as well.
Chapter Five – Point of No Return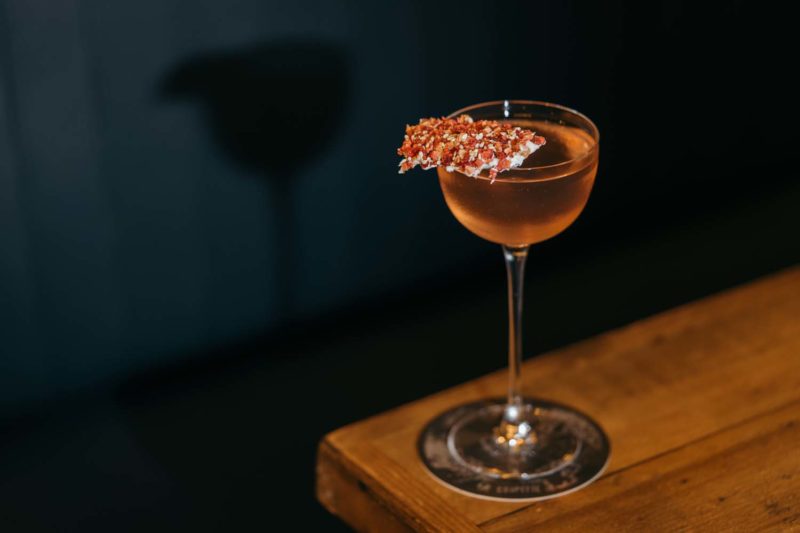 "This is how we saw ourselves getting ready for re-opening and launching the menu. We struggled, we fought, we did everything we could to make things happen and there was a moment of nervousness when we found out that there wasn't long left until our doors would be open again. It felt like a point of no return."
Andrei's favourite serve: Strawberry Adonis would be my go-to drink in this chapter. It is all based on strawberries and, through the use of different ingredients with the same profile, it creates some amazing layers of flavour. We are garnishing it with a sesame and strawberry cookie inspired by a restaurant called Tickets in Barcelona.
Chapter Six – No More Waiting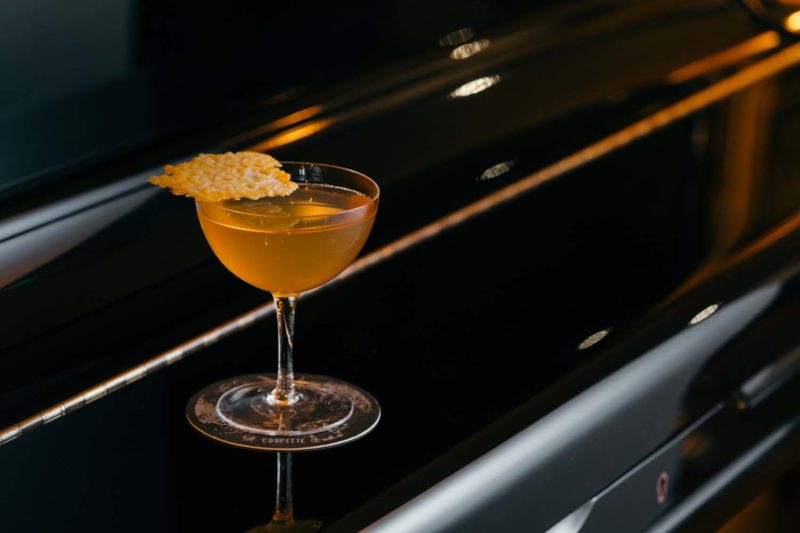 "Everything was done. Everything was ready. The hard part was almost over and we were just waiting for the green light to reopen. We knew it was still a gamble to reopen in such difficult circumstances, and that's why the video representing this chapter shows us playing a game of poker while we wait for a phone call. It shows that we were nervous, but also very excited – we couldn't wait to launch the new menu."
Andrei's favourite serve: This is a very hard choice, but I have to choose Ain't Easy Being Cheesy. This drink has parmigiano as its main flavour. We make a delicious liqueur out of it and pair it with a touch of mead and olive-oil-washed bourbon.
---
Coupette
423 Bethnal Green Road London, United Kingdom E2 0AN
+44 20 7729 9562 • info@coupette.co.uk
coupette.co.uk • Facebook • Instagram
---