Danico, the acclaimed bar in Paris, has unveiled its menu concept 'Xplorer', a series of menus inspired by the global travels of the internationally renowned industry heavyweight Nico de Soto and his team. Launching with Indonesia, the new list of 12 cocktails uses Indonesia's unfamiliar and often misunderstood spices and ingredients to transport guests to the tropics through sense-tingling cocktails. With each menus, Danico will invite bartenders from each country the menu is based on.
Danico Xplorer : a series of 5 menus
Every time Danico launches a new menu, all Paris (and well-informed travelers) run to try it and we are no exception. This time Nico de Soto took his team to explore Bali, they went on little adventures that are told on the menu for each drink to give us some context and out of this experience they made a lovely book, as green as the Asian paddy fields and with fun drawings to illustrate the recipes.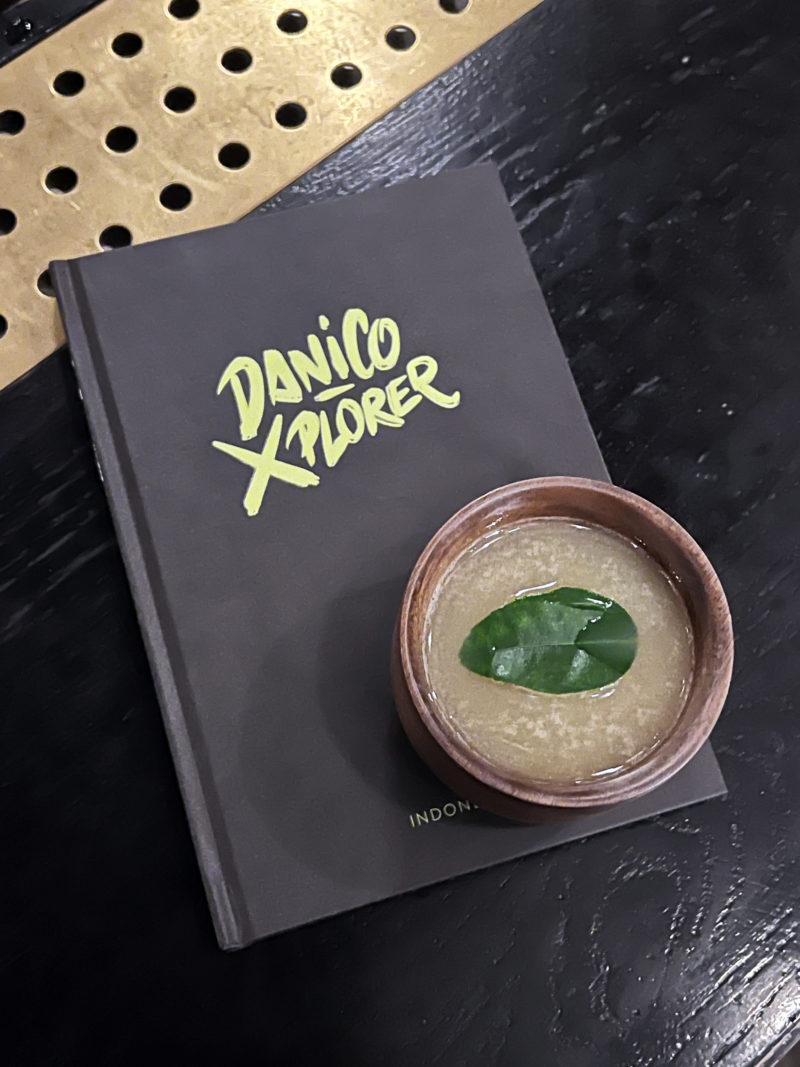 Since Nico de Soto opened Danico in 2016 in the former Jean-Paul Gaultier flagship store, he's been using his travels to bring back surprising ingredients, new flavours and incorporate them in his drinks. Speaking of traveling, Nico often speaks of Indonesia fondly so it makes sense that he chose to showcase his best Indonesian discoveries with this new conceptual menu. The first of a series of 5 menus that will also take us to Mexico, Japan, India and Peru later on.
Danico Xplorer : high-level cocktails
This menu contains 12 drinks, you will always find a variation of a fizzy drink, of a negroni, of an eggnog, a short drink etc… and of course, one milk punch:
KRAKOTOA
Krakatoa was a volcano between Java and Sumatra. It erupted in 1883 in one of the most violent volcanic events in history, creating giant tsunamis. It was just one of the many volcanoes in Indonesia, sitting on what we call The Ring of Fire. More than 50 of them are still active.
Peanut Butter Distillate, Plantation OFTD Rum, Plantation 3 Stars Rum, Rojak Spices Mix, Palm sugar, Mango, Pineapple, Cucumber, Sweet Potato, Lime, Soy Milk
TABANAN
My favorite thing about Bali is the green volcanic slopes full of rice terrasses. My favorite area is called Tabanan because it's more natural than Ubud, for instance. Tabanan is a funny word because in French it means "your banana".
Grilled Banana infused Weller 12 years old Bourbon, Roasted Coconut Cream Soda, Vanilla
HIT THE ROAD JACK
There are many desserts in Indonesia. Among them, Cendol, Es Campur or Es Teler, with coconut milk, grass jelly, pandan, rice flour jelly or even jackfruit. I tried to combine all of them in a milk punch.
Black Tot Finest Caribbean Rum, Grand Marnier, Jackfruit, Rendang Spices, Grass Jelly, Rice Jelly, Lime, Pandan infused Coconut Milk
BEJI GRIYA
In Bali, we went to a purification ceremony at Beji Griya, where there is a temple within a waterfall. Part of the purification ritual is to scream at the waterfall, to wash away negative energies.
Fresh Curry Leaves infused Pure Vodka, Lemon, Rica Rica, Kecap Ikan, Tomato Albumine
SPICY SOTO
Soto means soup in Indonesian. I guess my last name gave a lot of taxi drivers a good laugh over there. Those soups are very spicy and the most famous one is with chicken (Soto Ayam).
Soto Spices infused Mount Gay Black Barrel Rum, Lime, Soursop, Bhut Jolokia
TIPSY LUWAK
The most expensive coffee in the world is called Luwak coffee or Kopi Luwak in Indonesian. It consists of partially digested coffee cherries which have been eaten and defecated by the luwak (an Asian palm civet). You can find this animal in Sumatra, in the wild, but also sadly in many coffee farms where the civets are kept in cages for that purpose.
Nikka From The Barrel Japanese Whisky, Coconut Milk, Avocado, Pandan Syrup, Indonesian Espresso
Danico Xplorer : a series of guest-bartenders
With each menus, Danico will invite 3 bartenders from each country the menu is based on, and the first one is Panji Wisrawan, the Head Mixologist (and Vice-roi !) from the hotel bar 'Aperitif Bar' from Viceroy Bali in Ubud/Bali. Balinese born, Panji graduated from the Nipaka L'école Hotelière in Denpasar and won the Campari Bartender Competition in 2019. He worked in Bali then on a cruise for a couple of years before coming back to Bali and join l'Aperitif bar.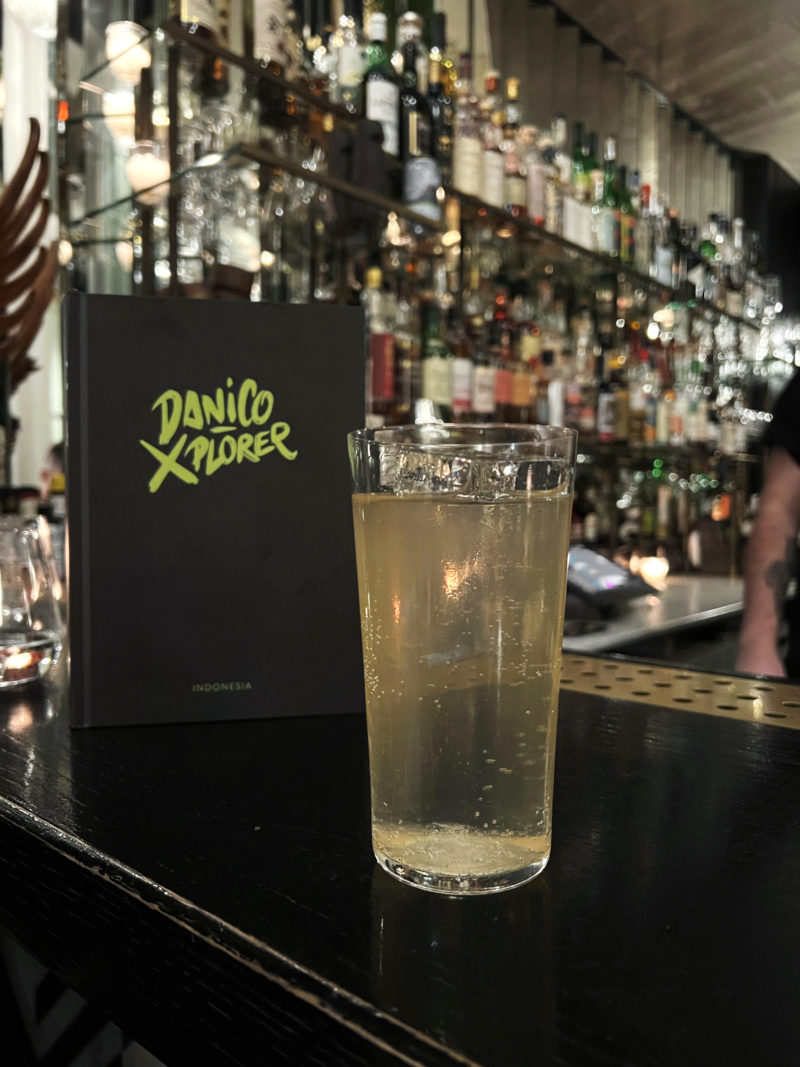 L'Aperitif bar menu is called COCKTAIL ANTHOLOGY and the inspiration is drawn from the start of tourism in Bali in the 1920s when the Royal Dutch Steam Packet Company added the island to its itinerary. In the 1930s there were only 100 courageous tourists a year and we can imagine there were (yet) not many hotels on the island. The Prince Gede Agung Sukawati in Ubud (where the royals were living) then allowed tourists to stay in his bungalows and then started to patronise artists, Walter Spies was one of them. A culture shock for a westerner to discover that the arts are at the center of the education in the East. And since then, Balinese philosophy is unchanged and so are tourists discovering the place!
Danico on the right track
Danico is placed  #85 in the extended list of The World's 50 Best Bars 2022 and we don't want to jinx anything but they deserve to go up this year. They have been able to stay in the game in France and in the world scene since they opened and that's already a great accomplishment. With this menu, Nico de Soto is doing what he knows best and is working with a great team that can help him achieve more. They have been working together to give a direction that stays in line with Danico's origins while making it evolve with consistency. They keep their humorous touch and play words because after all it's a bar and we go there to have fun.